The Scorpions. One of the most iconic hard rock bands in the history of modern music, still active, writing new music and touring. Definitely one of my personal favorites ever. But how it all started? I'll tell you this: From a "sting" to a little boy!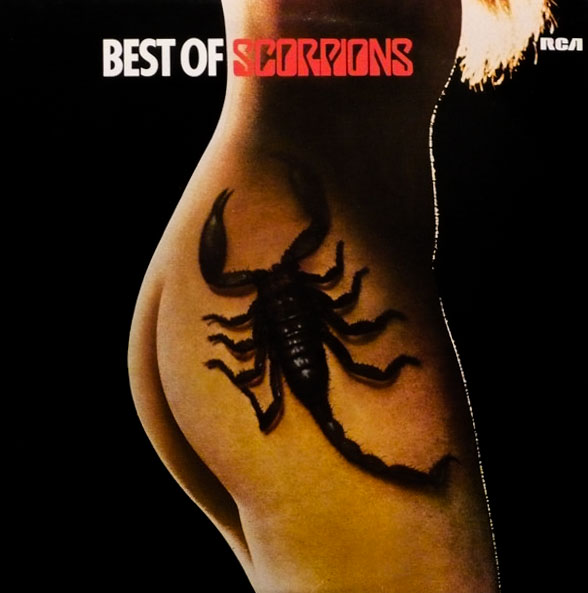 My first ever memory of this band doesn't come from their music, but from this specific cover of the compilation Best Of Scorpions released back in 1979. My father used to have a vinyl collection in our living room and this one specifically along with the Force It by the band UFO (thank you Hipgnosis!) were the two covers that I felt were very provocative and a constant temptation for me every time I was going through the collection.
Fast forward to the early 90's and as every young rock enthusiast I started listening to them especially their 80's-early 90's period. In my country, and I guess in many countries as well, there wasn't a single teenager party without a Scorpions ballad moment. 
In 1996, still going to school, I remember seeing posters in my hometown Thessaloniki, promoting their upcoming concert at Palais Des Sports, part of their Pure Instinct tour. Of course I was too young to attend it.
Growing up, I was very into their 70's stuff, mainly because of Uli Jon Roth, their lead guitarist in 4 albums (plus one live album), one of my favorite musicians ever. Speaking about Uli Jon Roth, I was fortunate enough to say that I attended his first ever live performance in Greece, supporting the legendary UFO (what a coincidence!), featuring drummer Jason Bonham and guitarist Vinnie Moore, back in 28th February 2004, at Rodon club in Athens. I remember that he was just playing with his Sky guitar along with one keyboard musician and some pre-recorded tracks.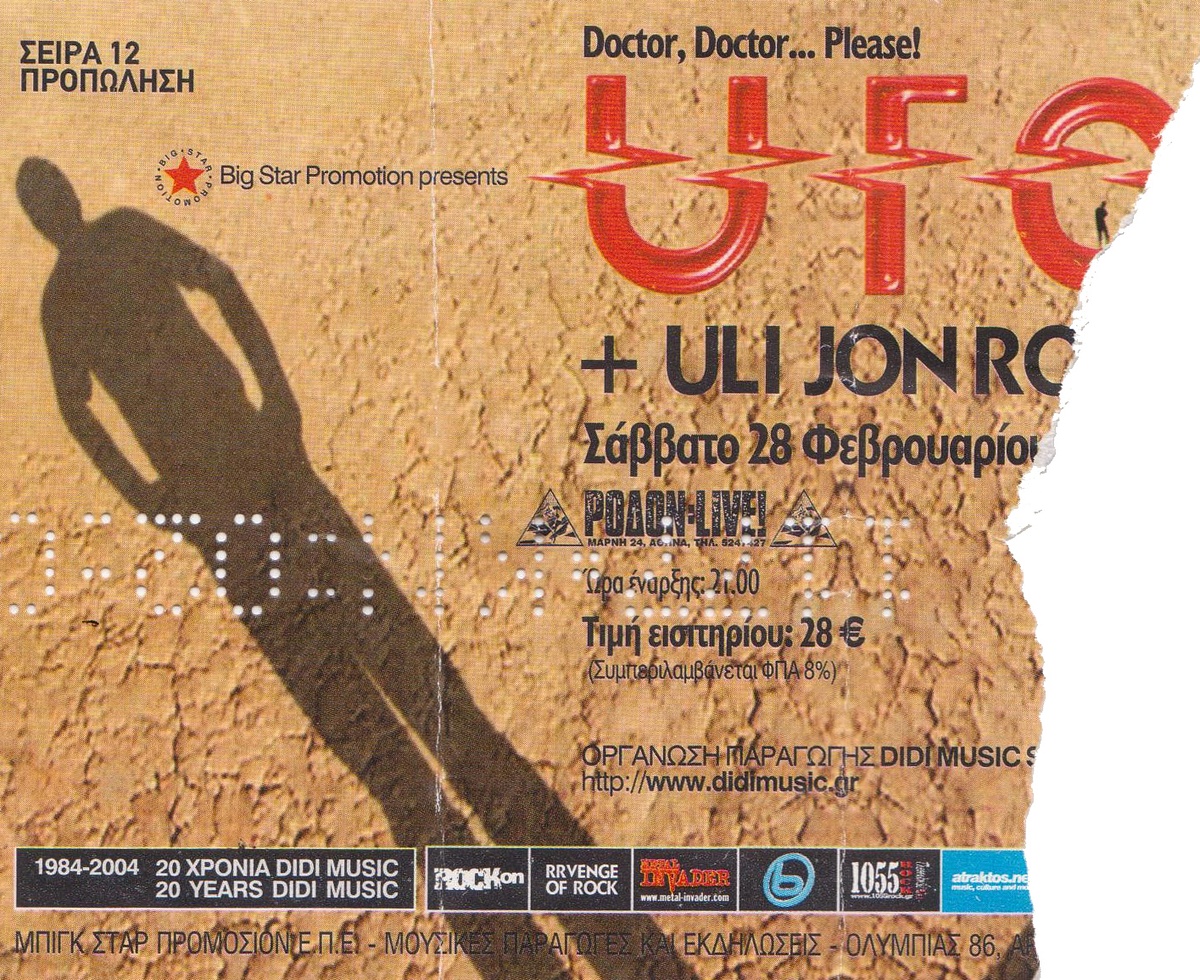 After this, I saw Uli Jon Roth with a full band featuring vocalist Mark Boals, known from his collaboration with Yngwie Malmsteen, at Fuzz Club (ex-Club 22), on the 1st of November  2008. This was for sure the longest concert I think I have ever been to. He literally played 2:45 hours, a huge set featuring lots of Scorpions tunes. I remember him waiting after the show at the venue's entrance to meet and greet everyone. He is such a kind and friendly person, and another experience I had some years later proved it.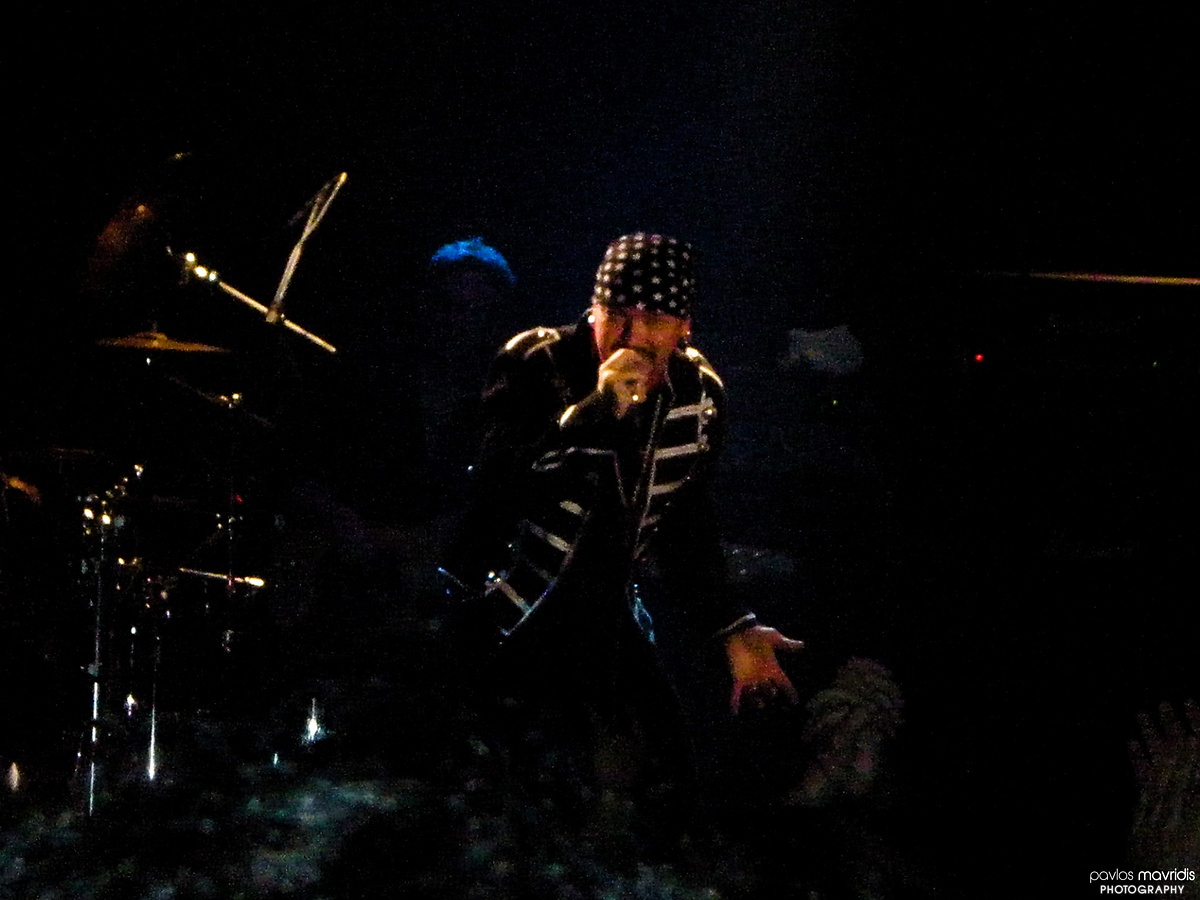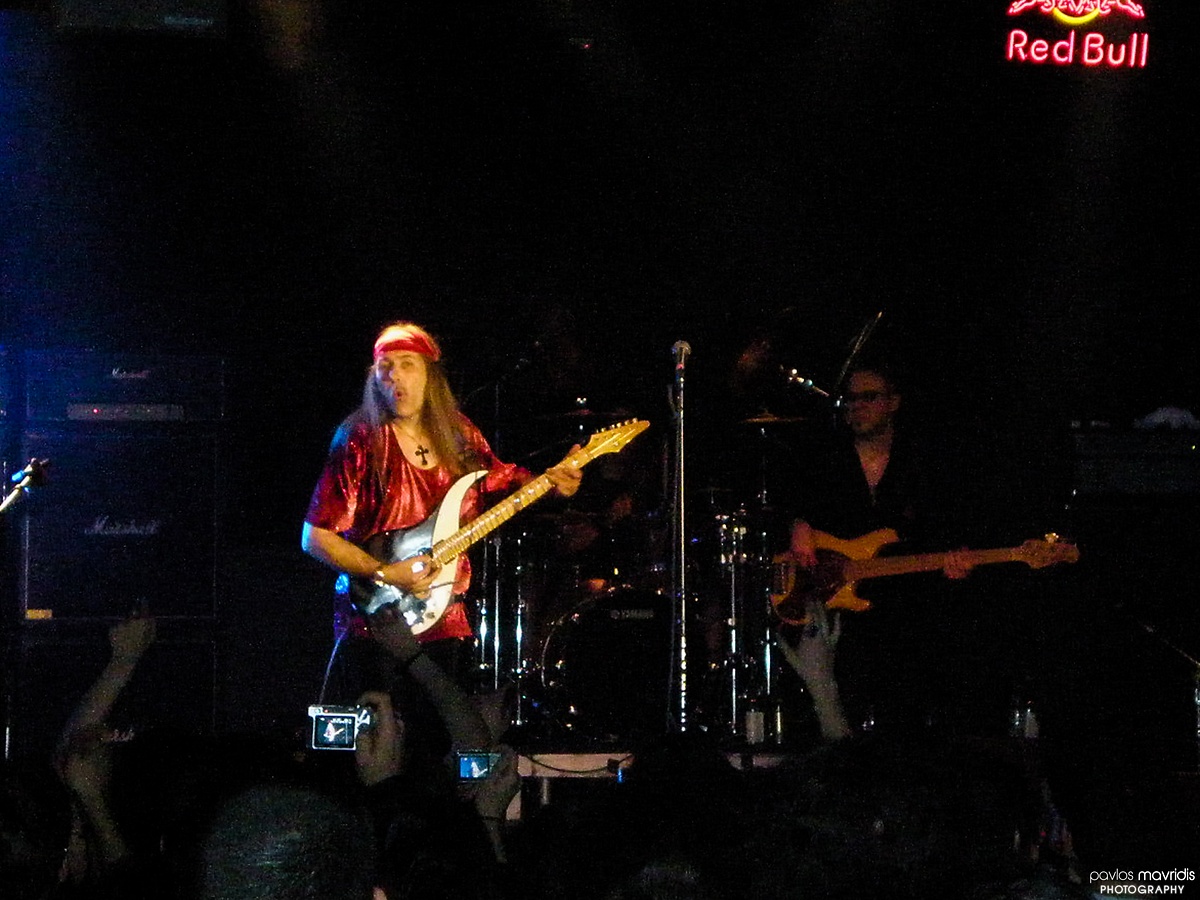 In 2011, when I visited Musikmesse/Prolight + Sound in Frankfurt Germany for the first time with AtlaBase, in one of my many walk arounds in the halls I saw Uli walking around as a visitor and when I decided to talk to him he was so kind and enthusiastic about Greece and his past visits here. Great human being and artist.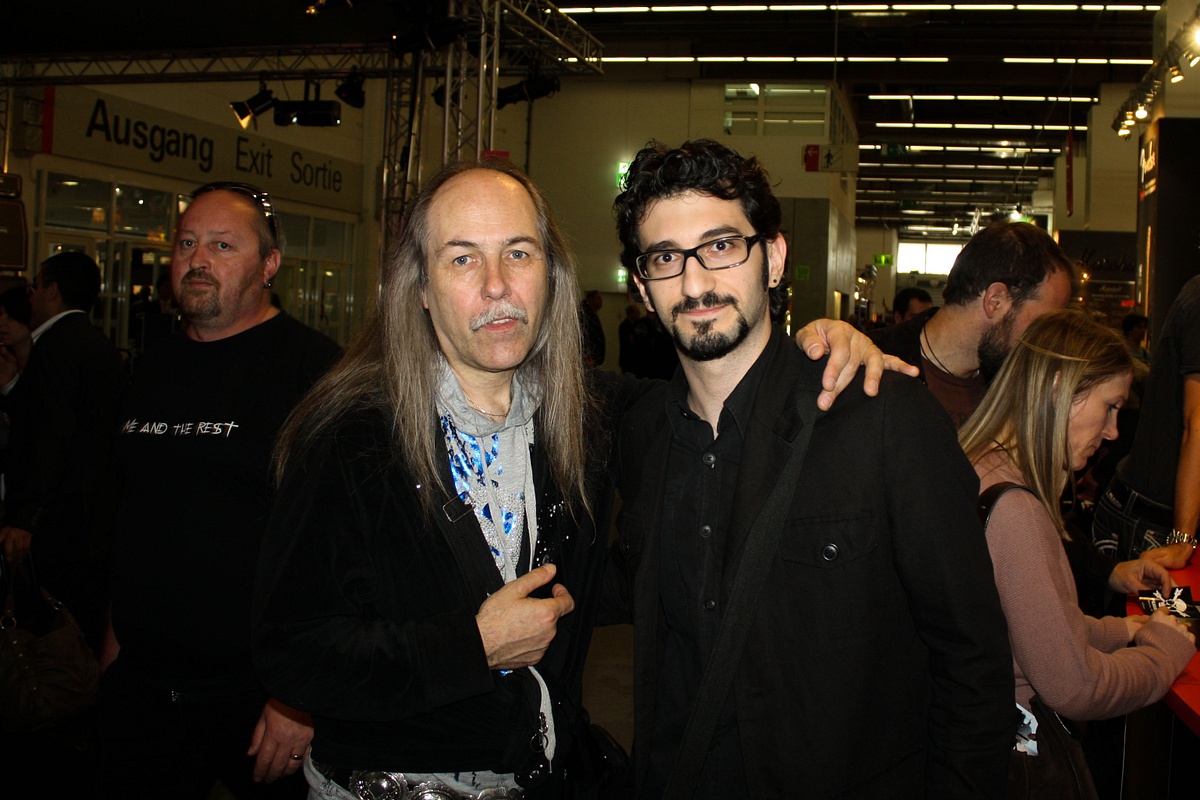 Speaking of Musikmesse/Prolight + Sound, the year after, I had the chance to meet the current lead guitarist of the Scorpions, Matthias Jabs who was promoting his own guitar brand MJ Guitars.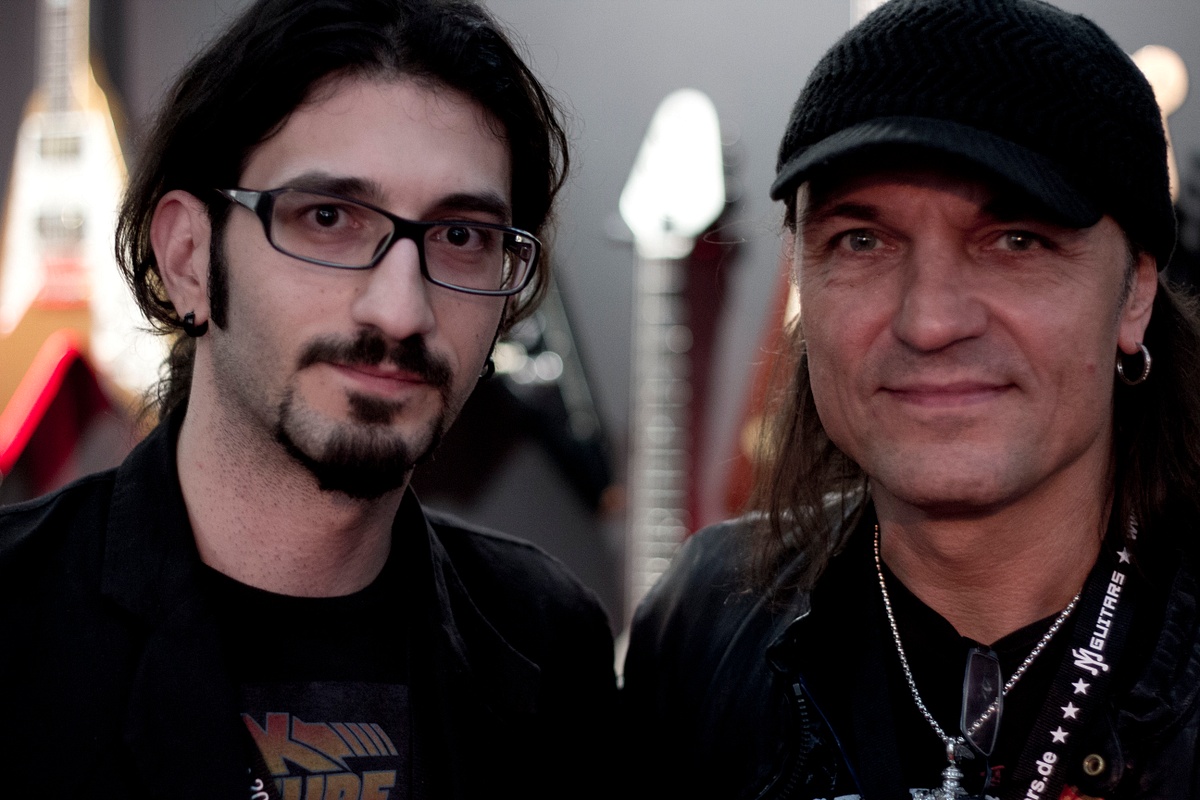 Back to Scorpions. In 2001, the band released a live acoustic album called Acoustica. I am sure that their die-hard fans did not like that record much, but to me it was one of those albums that kept playing non-stop for months. It was one of the first live DVD releases which was a thing back then (no YouTube yet) and I remember watching it many times with my friends (When Love Kills Love was the most heard track). After that release comes my first ever concert of the Scorpions. On 19 September in 2001, they played in Peace & Friendship Stadium.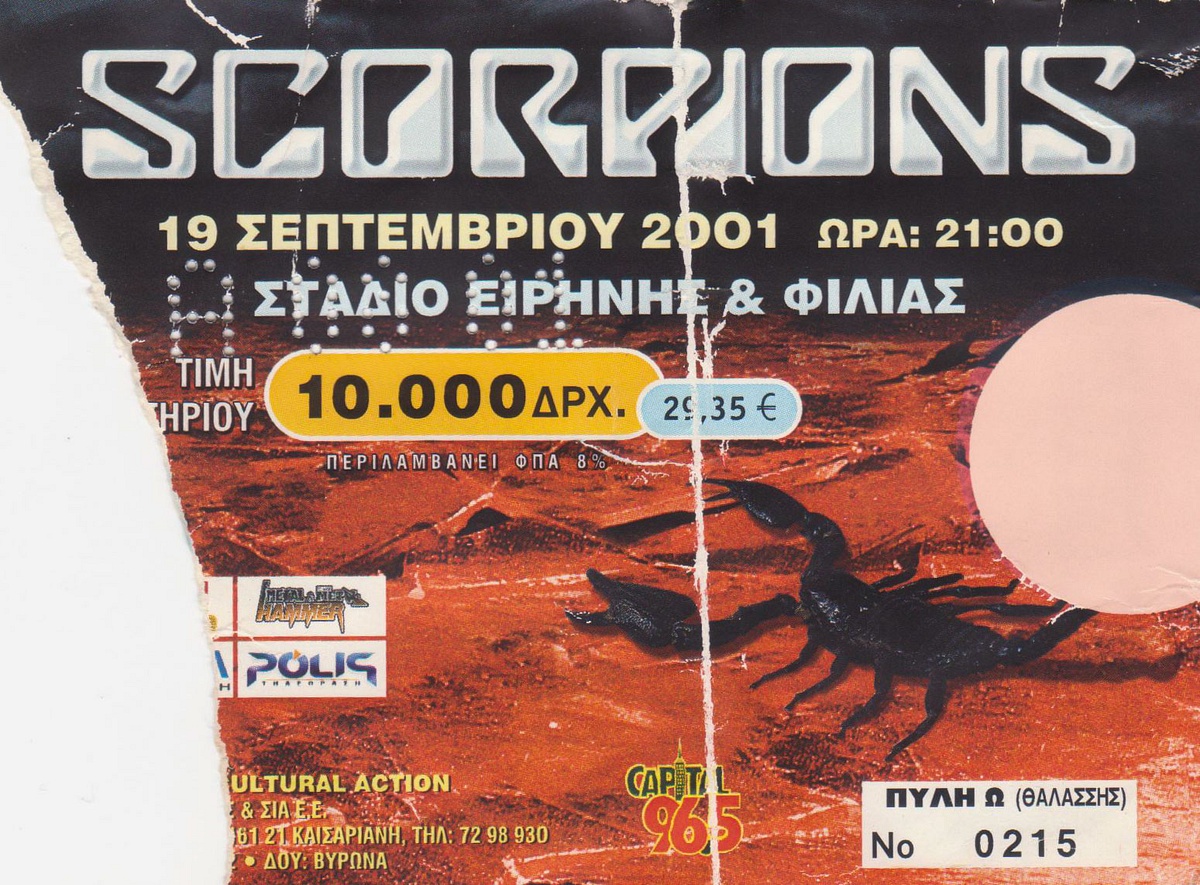 I was prepared to see an unplugged show because the Acoustica was an unplugged album. Thanks to no internet and spoilers back then, Scorpions hit the stage full electric and I was blown away. They did an acoustic set with some guest musicians but the main show was a classic Scorpions set.
Now, as I mentioned in my Vol.1 post (Blast from the past Vol. 1: Steve Vai in Thessaloniki 2000), I was just 20 years old, photography was unknown to me, I was just trying to collect as much material as possible (photos, recordings, memorabilia etc). So here they are, for the first time, some scans from this concert with a one-use camera. And yes, back then, I was the annoying guy using a flash light during a concert :)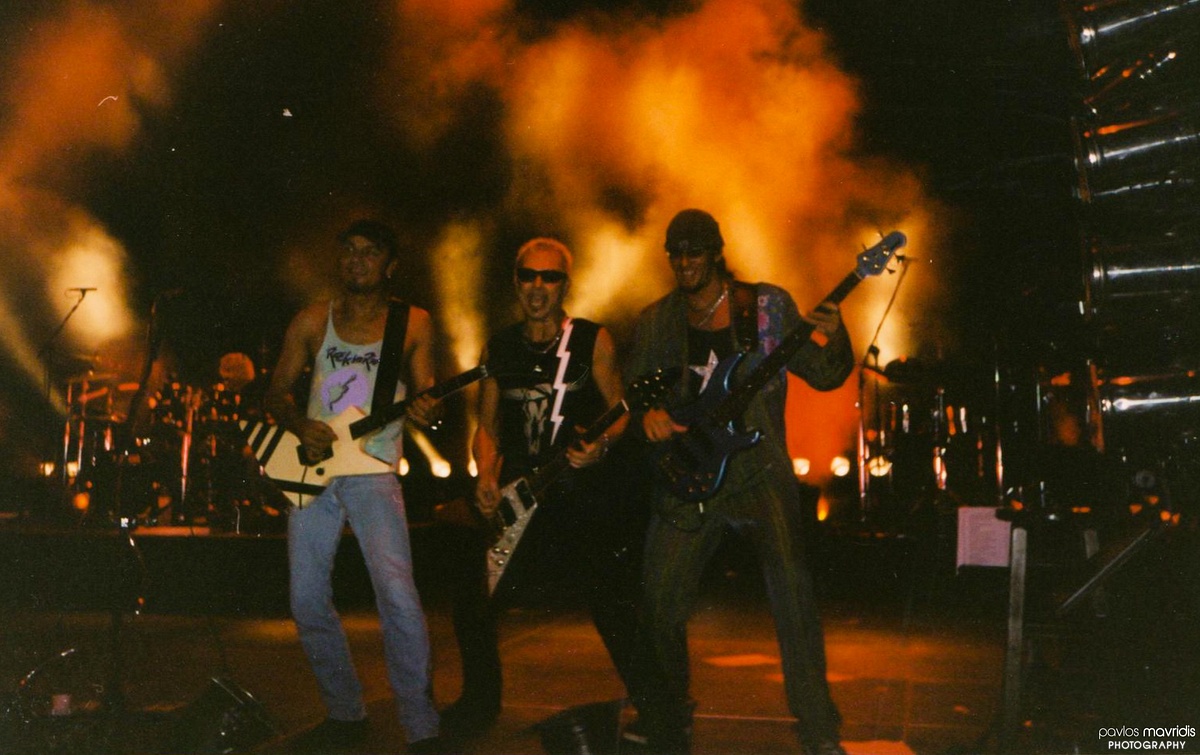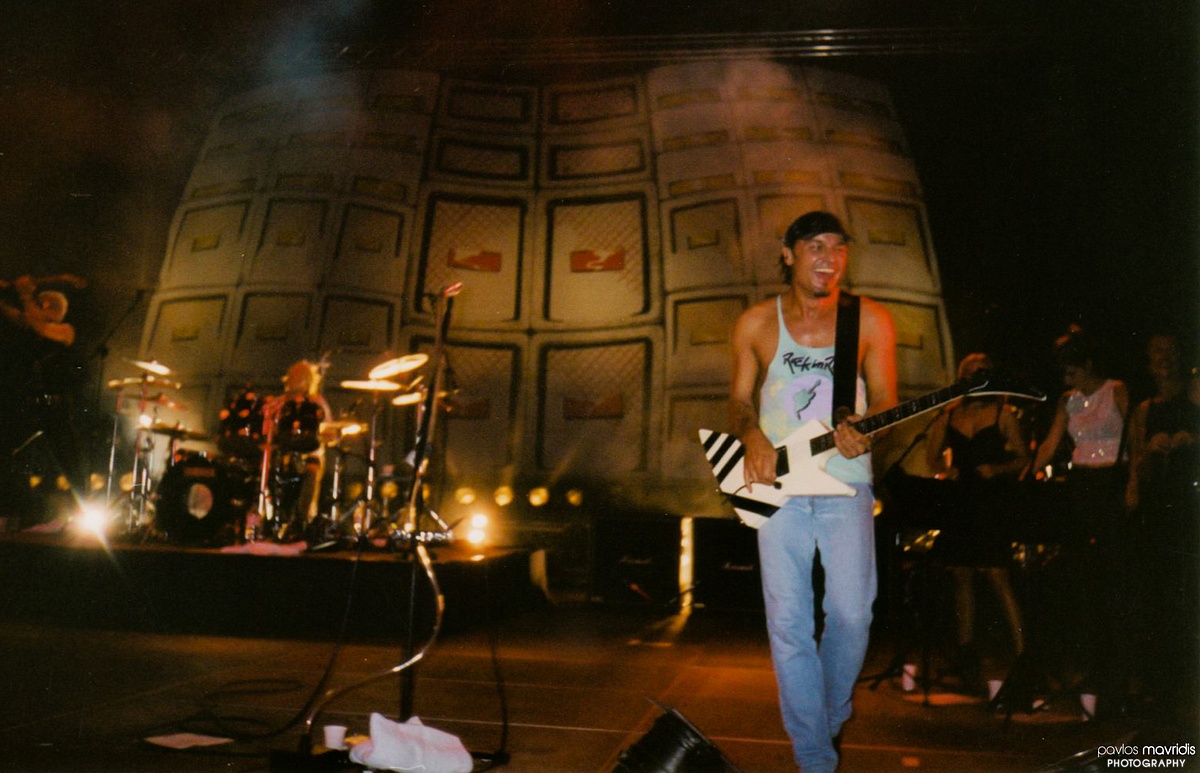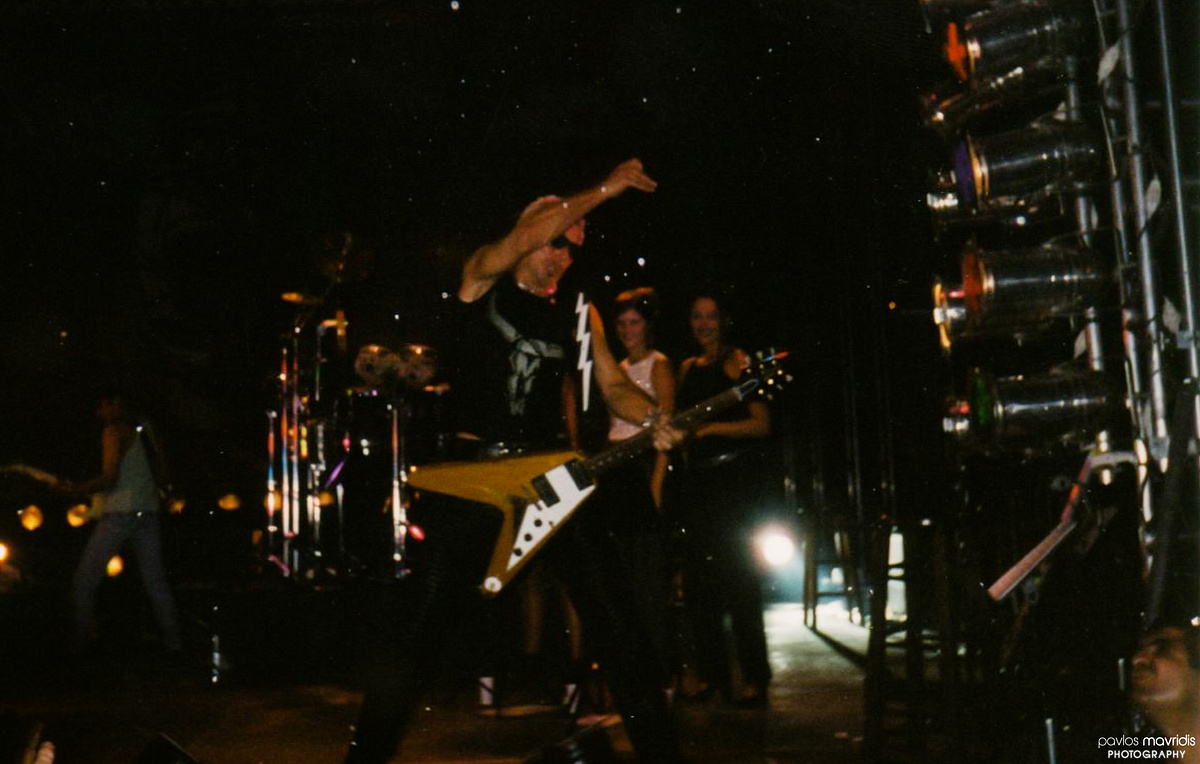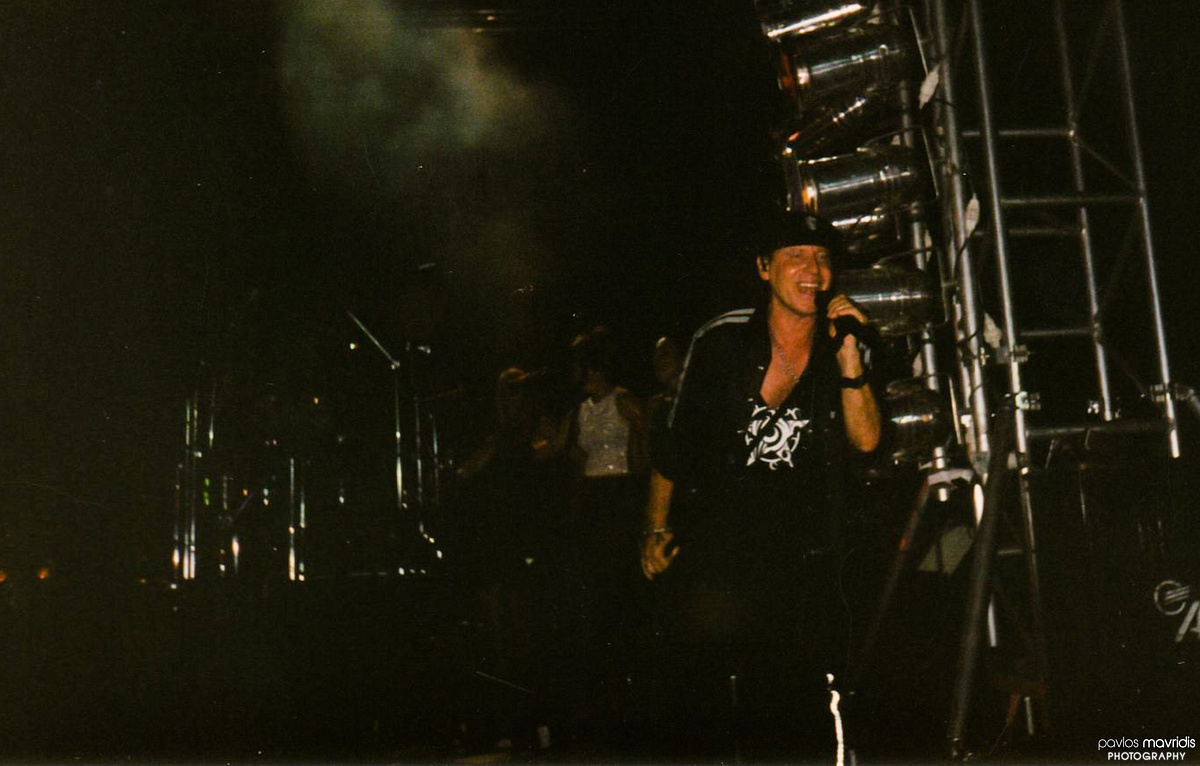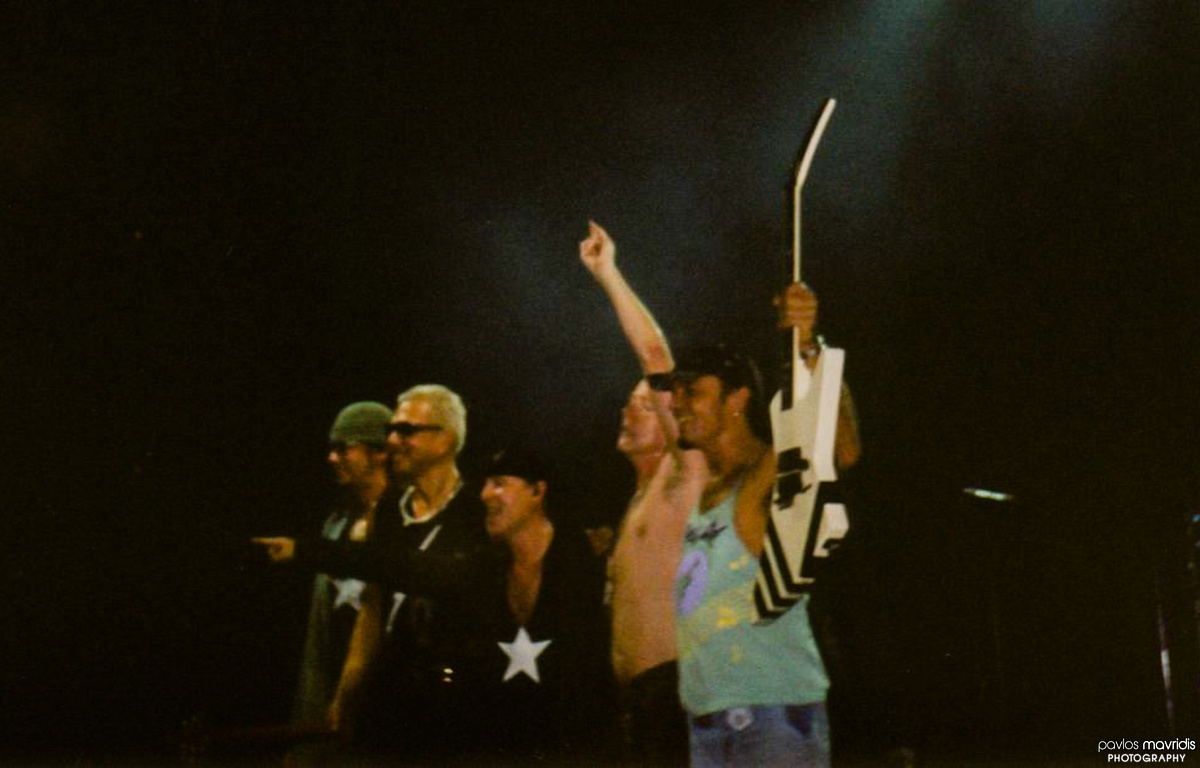 In 2004, Scorpions released Unbreakable, to me, their best post 80's-90's album. Great songs, great production, back to their classic style after their Eye II Eye most pop oriented album (1999). They came back to Athens on 30 May 2004 in Lycabettus Theatre which I unfortunately only heard by being outside the theatre (many people back then used to go outside this theatre to watch the concerts from far away).
2006, 25 years old and already working as a lighting technician in concerts for 2-3 years, came one of my first big concerts that I was in the local lighting crew. One year earlier, Scorpions had started a series of stadium concerts in Athens that were unexpectedly successful, with more than 25.000 people each time. When I heard that they are returning to Karaiskaki Stadium and the company I was working with will be the PA company I was so excited I could not believe it. I had the opportunity to be walking around the stage next to these legends. And not only Scorpions, but the support act was Whitesnake, another favorite band of mine.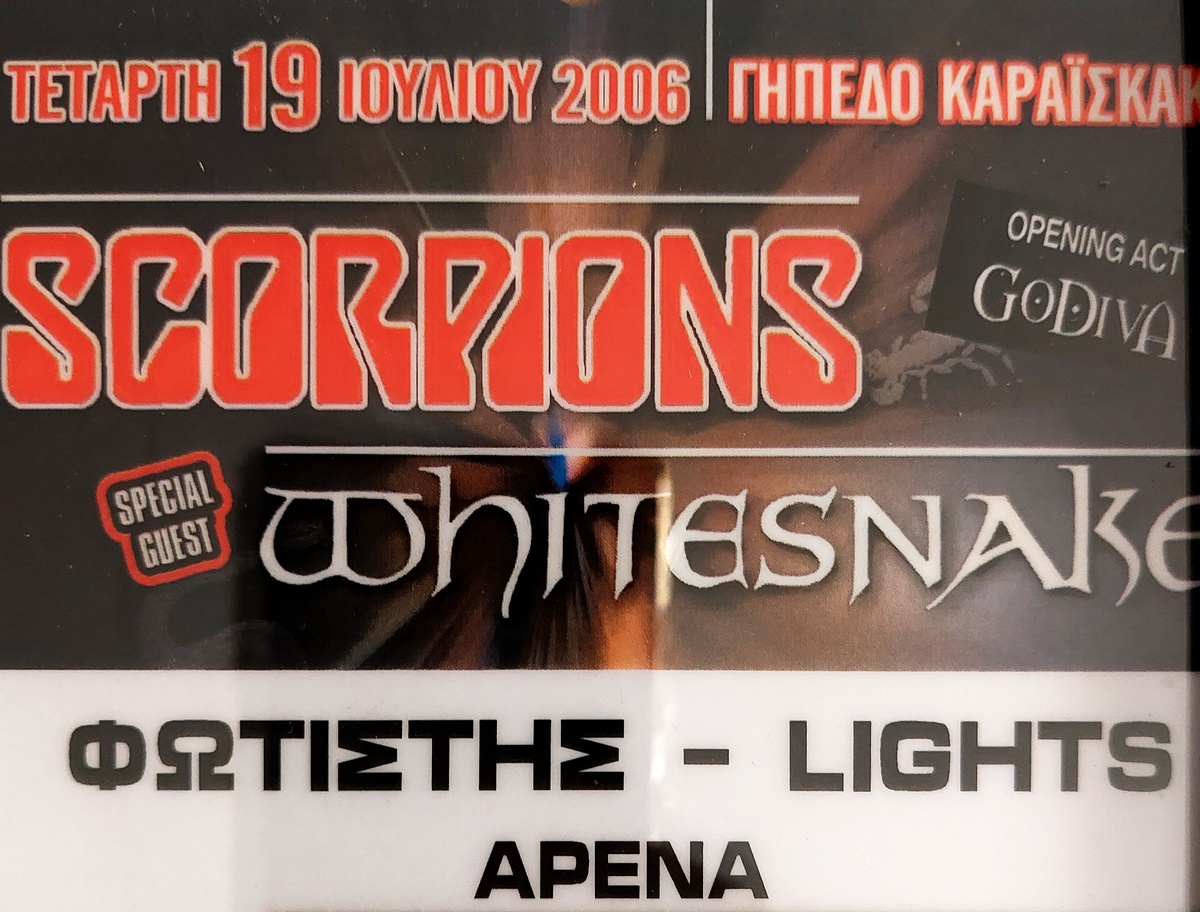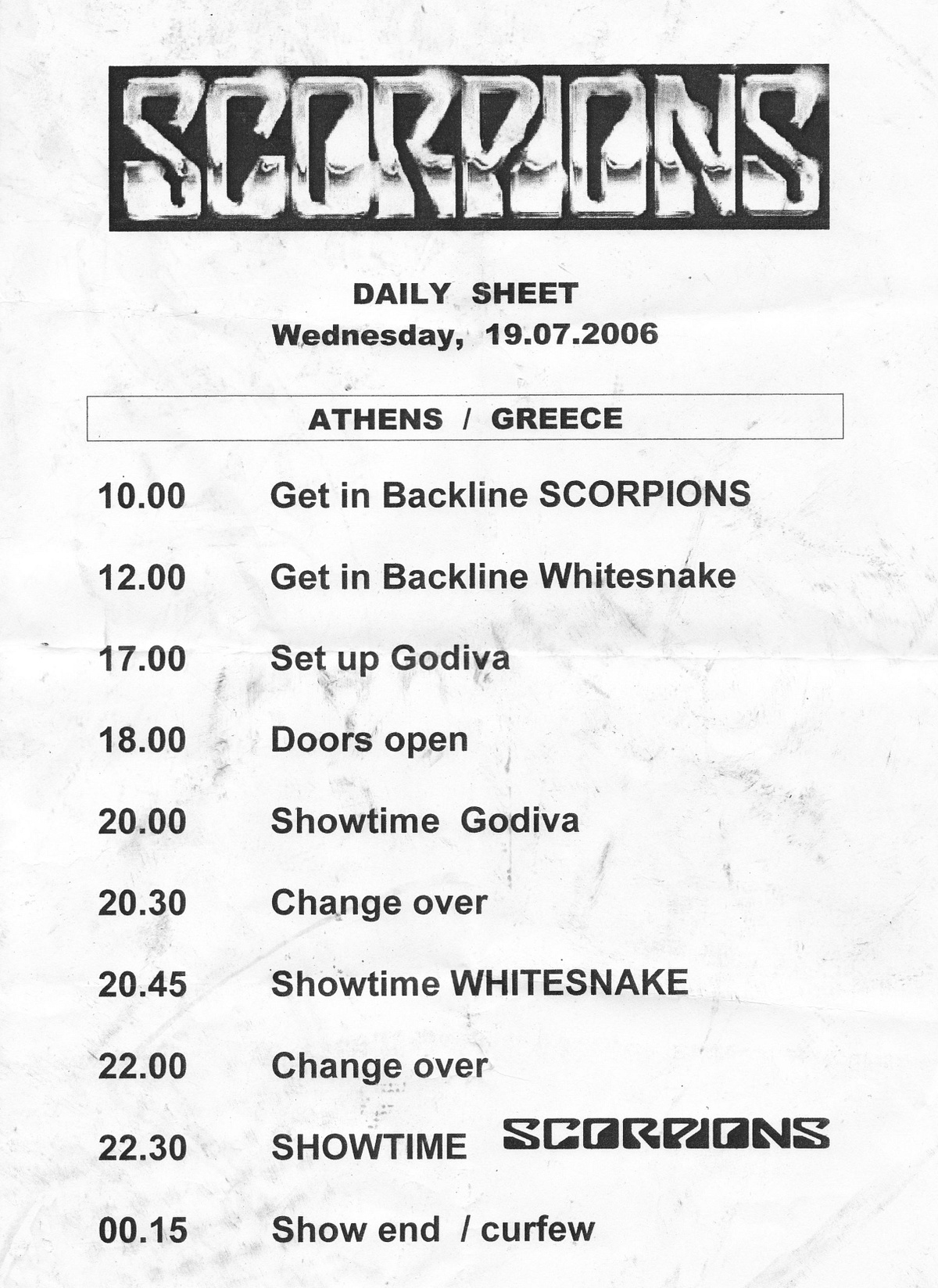 The band will return for the third time at the same stadium on 18 June 2007 along with Joe Cocker and Juliette And The Licks. The company I was working with was again responsible for the concert and this time I was just watching the event with a guest pass. The special thing about that day was that Uli Jon Roth joined Scorpions for a small set. That was a historic moment and I cannot forget it. I felt as if I were in a time machine back to the 70's. What an amazing performance that was!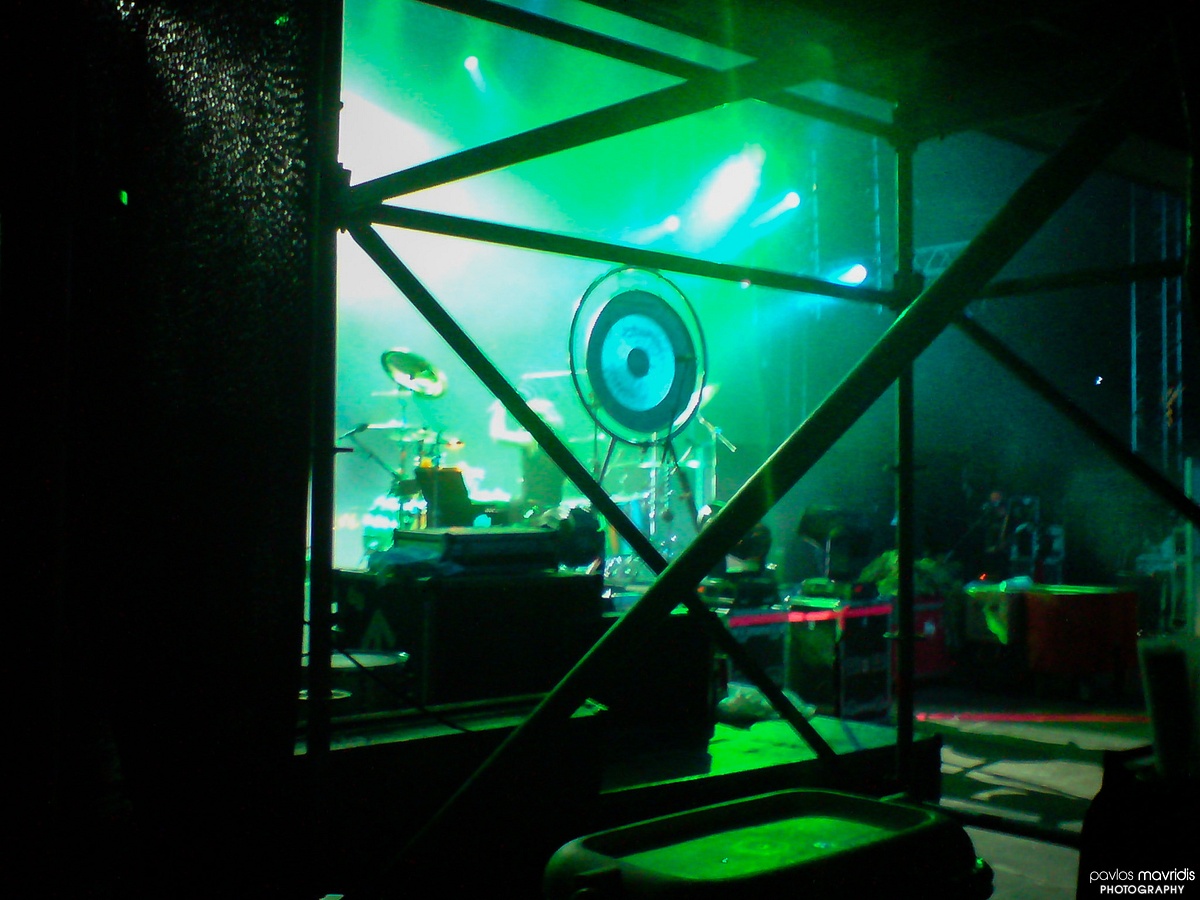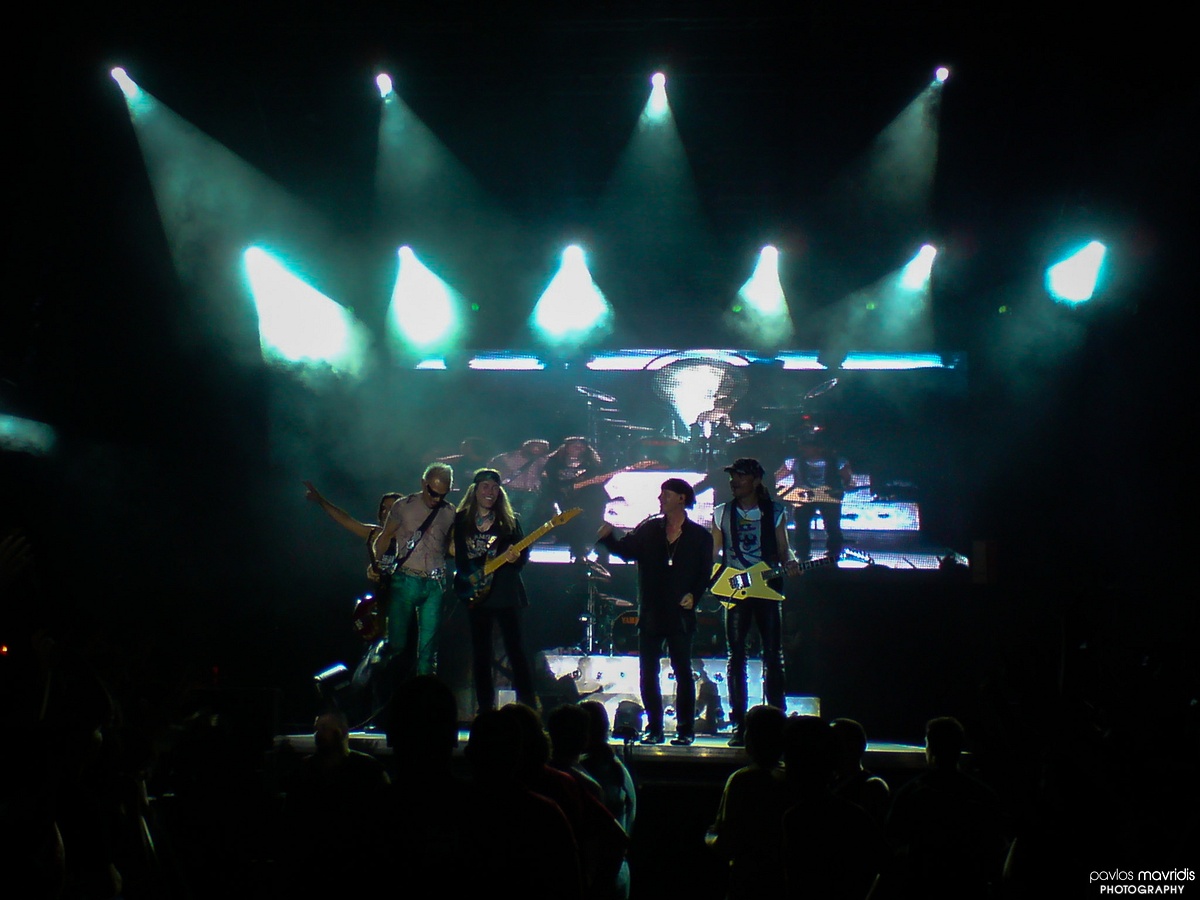 Although Scorpions had visited Greece for 13 times after 2008, including other cities apart from Athens, an MTV Unplugged recording and so many other special events, that  I unfortunately missed. In 2018 (16 July) comes the concert in Kallimarmaro. The event was called Once In A Lifetime and it was huge in terms of the venue capacity. Now, as a photographer, specializing in concert photography I managed to gain access to photograph them! What a moment! From my living room, to the pit!
Below you can find my photo report from the 2018 concert. Such a very special moment to me! But this is not the end so far...
Scorpions - Once In A Lifetime @ Panathenaic Stadium (16/07/2018)
Some trivia about this concert

It was part of their tour called Crazy World Tour (not to be confused with the similarly-titled 1990–1991 tour in support of the band's eleventh studio album Crazy World)
The Athens State Orchestra participated by opening the show, joined by Rudolf Schenker for a symphonic version of Hurricane 2000
They performed Overkill by Motorhead as a tribute to Lemmy who had recently passed away. Scorpions drummer is now Mickey Dee (ex-Motorhead).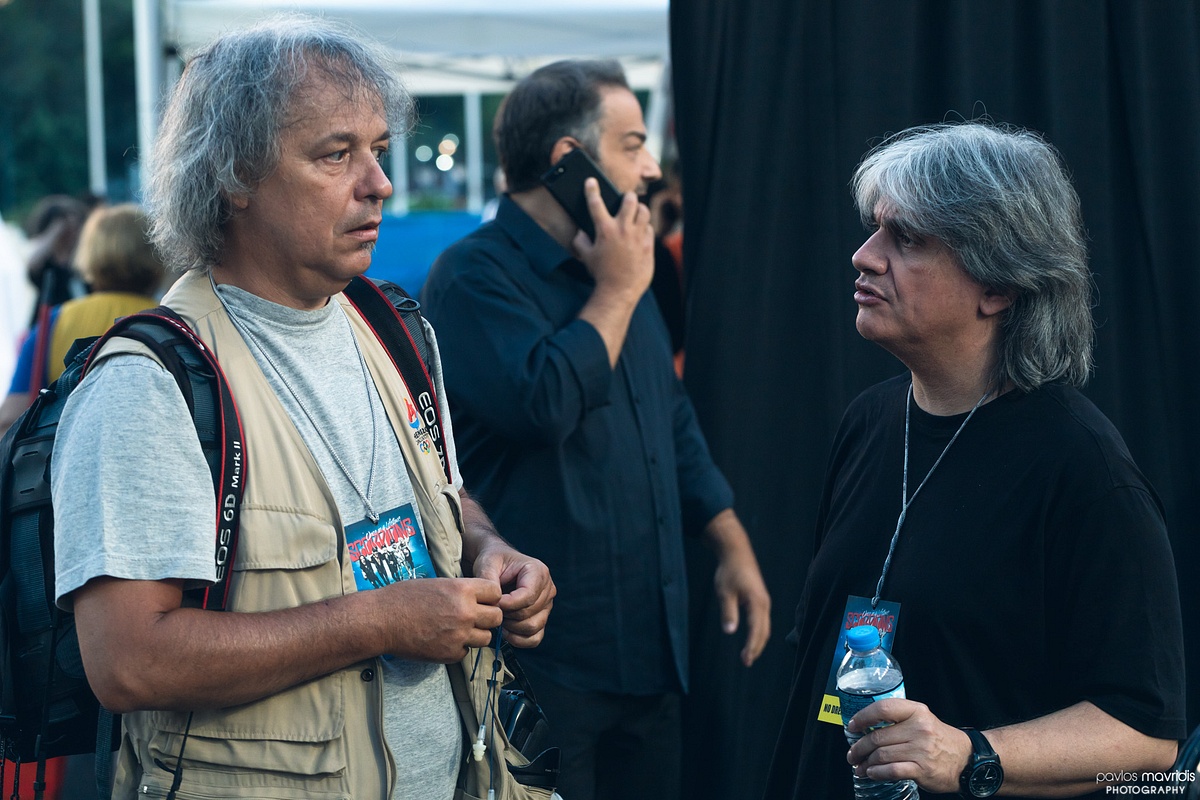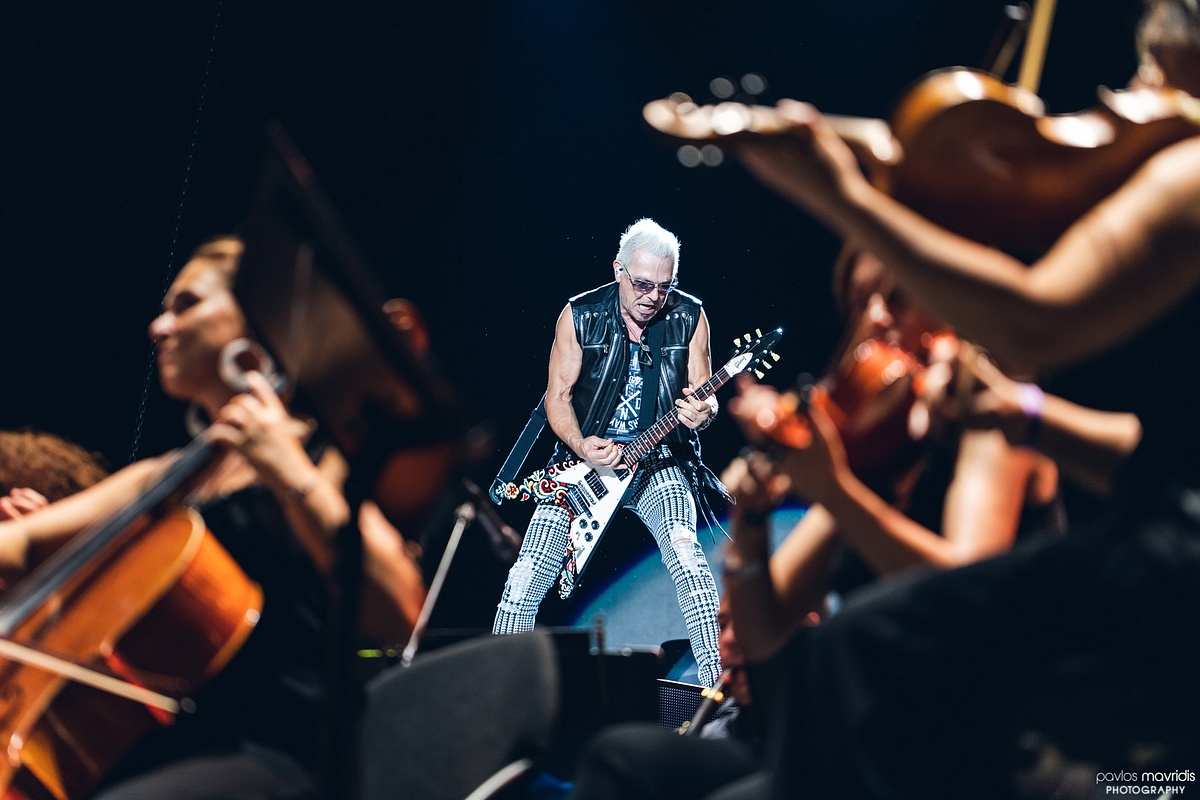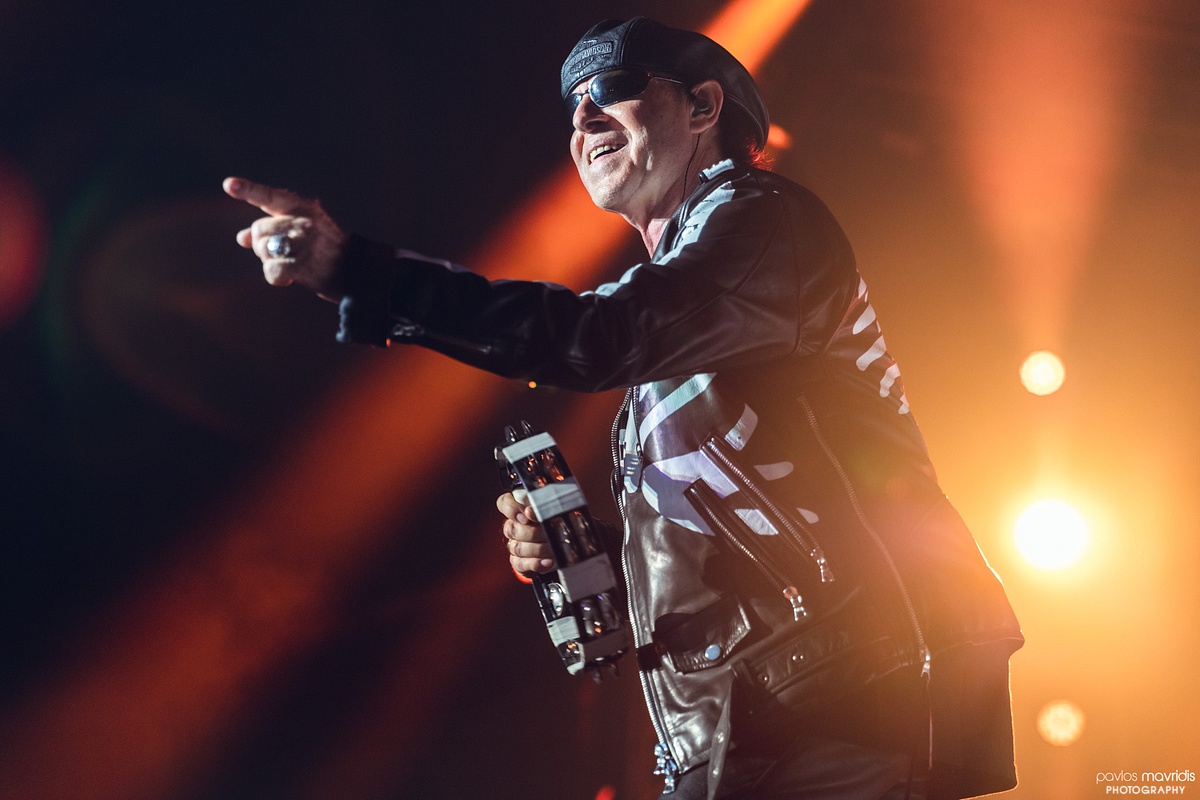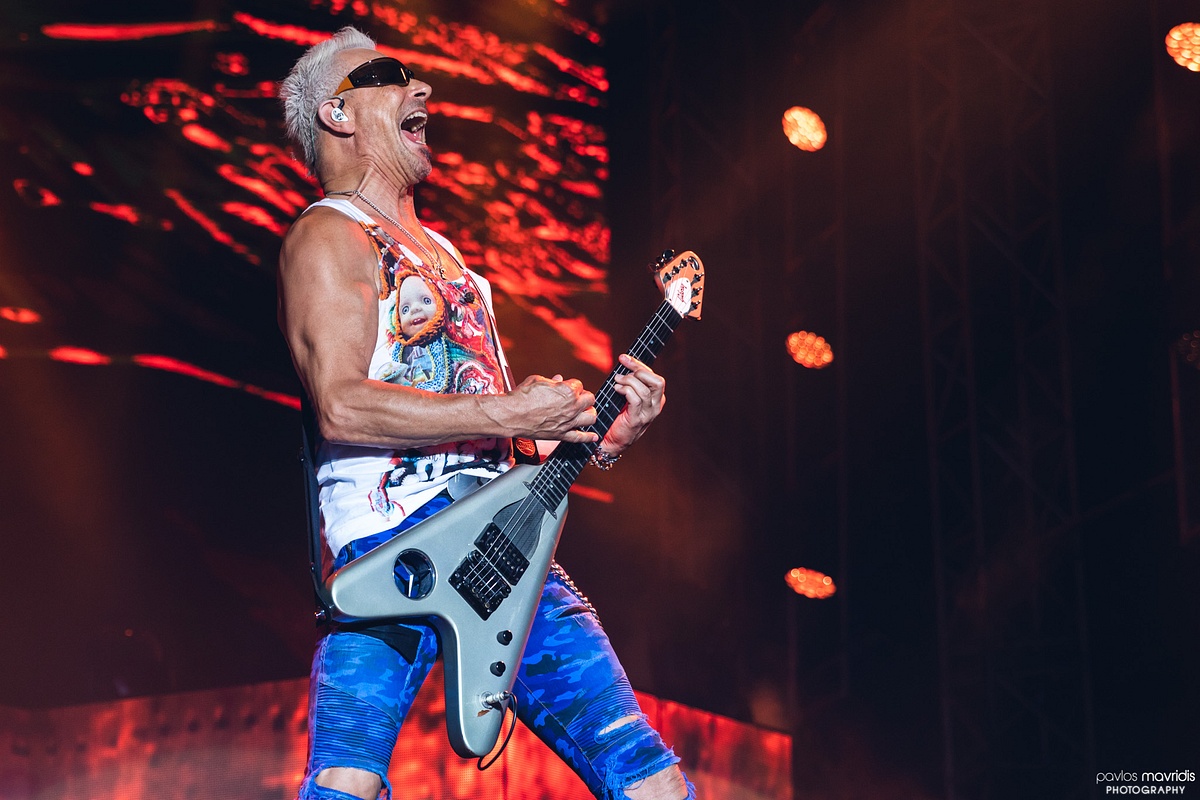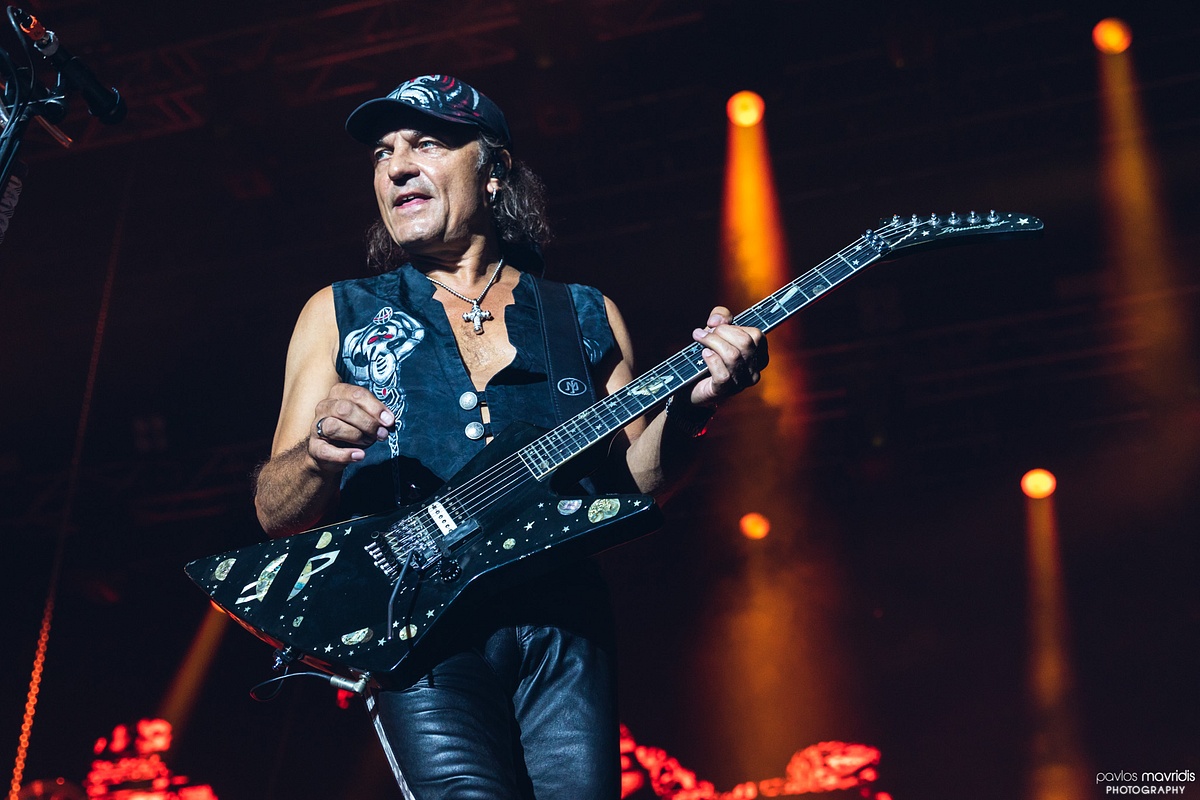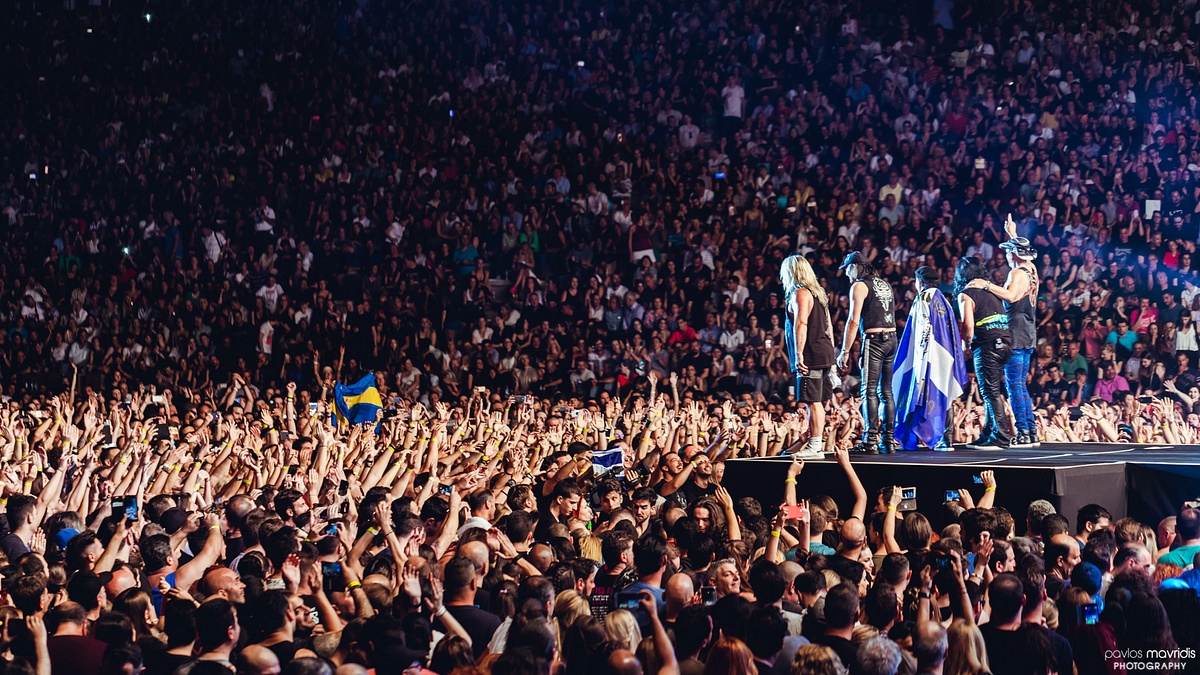 Personally, I thought that the 2018 concert would be probably their last in Athens, Greece, due to the fact that covid-19 followed and changed everything in our every day life but also in the entertainment industry for at least 2-3 years. However, the band released an excellent new album called Rock Believer in early 2022 and started a new tour supporting it, starting with Sin City Nights Las Vegas residency and then a regular tour which had a stop on 6 of July 2022 at the Olympic Stadium in Athens, along with another rock legend, Alice Cooper, as a special guest.
The big moment for me came when I had the honor and the privilege to receive a call from Robin4Arts, the local promoter of the show in order to be the house photographer along with Chris Kissadjekian. An unforgettable moment and one of my top moments watching how things evolved through the years. You can go through some of the photos in the following link:
Scorpions & Alice Cooper @ OAKA (06/07/2022). Until next time: Rock On!